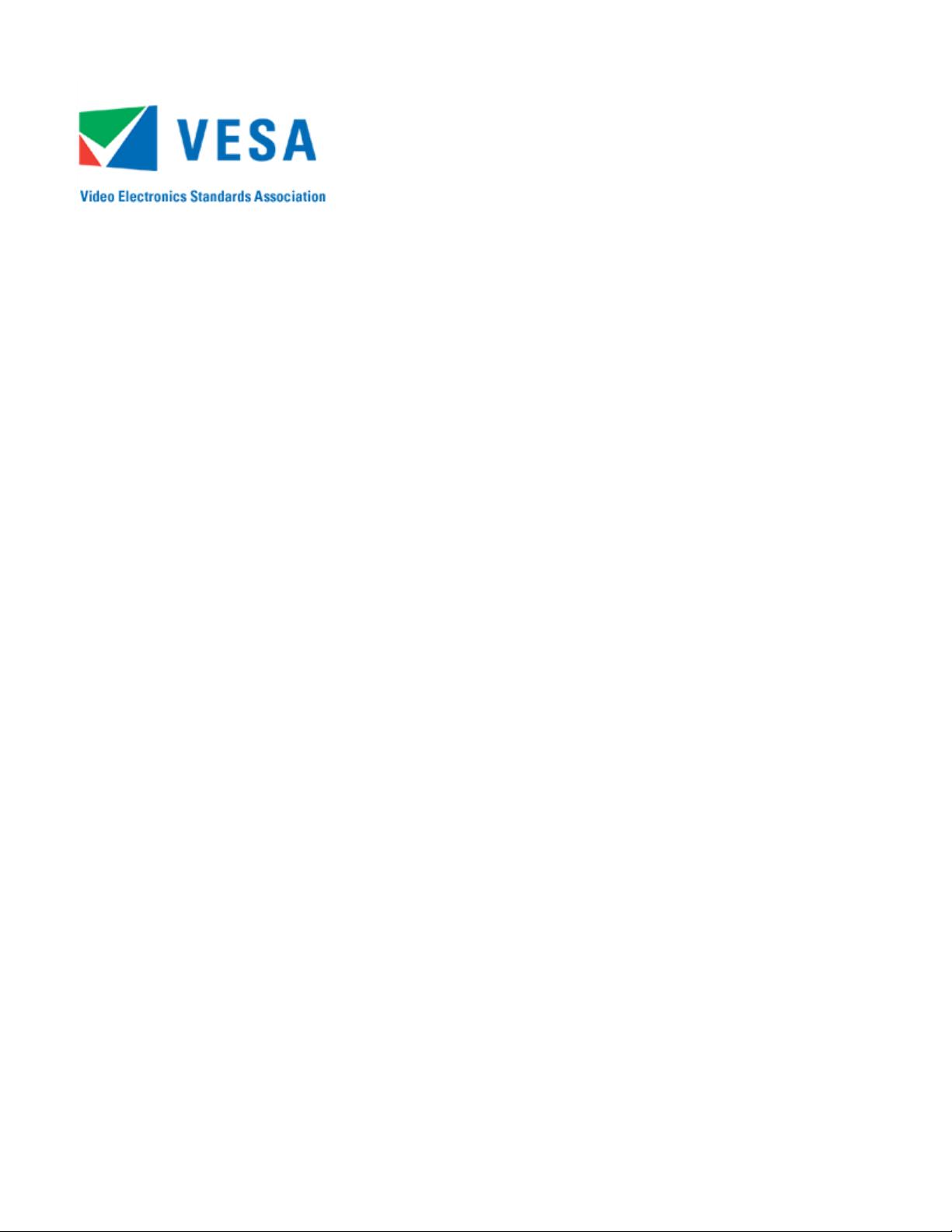 VESA Display Stream Compression (DSC) Standard
UNAUTHORIZED DISTRIBUTION PROHIBITED
Version

1.2a
Copyright © 2014 – 2017 Video Electronics Standards Association. All rights reserved.
Page 1 of 145
VESA Display Stream
Compression (DSC)
Standard
www.vesa.org
Version 1.2a
18 January, 2017
Purpose
The purpose of this document is to specify the VESA
®
Display Stream Compression (DSC) Standard.
Summary
The DSC Standard is a specification of the algorithms used for compressing and decompressing image
display streams, including the specification of the syntax and semantics of the compressed video bitstream.
DSC is designed for real-time systems, with real-time compression, transmission, decompression,
DSC specifies the compressed video bitstream. DSC does not specify a Transport Layer. Practical systems
that use DSC must follow a suitable transport specification in which the Transport Layer conveys DSC
streams, from source to destination.
DSC is a compression and decompression standard for display streams between two distinct devices, either
from one box level product to another, or from one chip to another within a box-level product, by way of a
display stream interface. Display stream interfaces that could apply this standard include those between
a
mobile application host processor and display panel module, between a computer graphics output and
display monitor, or between a consumer electronics source device to a display device, such as a television.
Display stream interfaces can be either wired or wireless.
我的内容管理

收起

我的资源

快来上传第一个资源

我的收益

我的积分

登录查看自己的积分

我的C币

登录后查看C币余额

我的收藏

我的下载

下载帮助
资源上传下载、课程学习等过程中有任何疑问或建议,欢迎提出宝贵意见哦~我们会及时处理!
点击此处反馈