MT53B256M32D1NP.pdf
需积分: 50
909 浏览量
更新于2023-03-03
评论
收藏
3.99MB
PDF
举报
Mobile LPDDR4 SDRAM,MT53B256M32D1, MT53B512M32D2, MT53B1024M32D4,Features • Ultra-low-voltage core and I/O power supplies – VDD1 = 1.70–1.95V; 1.8V nominal – VDD2/VDDQ = 1.06–1.17V; 1.10V nominal • Frequency range – 1600–10 MHz (data rate range: 3200–20 Mb/s/ pin) • 16n prefetch DDR architecture • 2-channel partitioned architecture for low RD/WR energy and low average latency • 8 internal banks per channel for concurrent operation • Single-data-rate CMD/ADR entry • Bidirectional/differential data strobe per byte lane • Programmable READ and WRITE latencies (RL/WL) • Programmable and on-the-fly burst lengths (BL = 16, 32) • Directed per-bank refresh for concurrent bank operation and ease of command scheduling • Up to 12.8 GB/s per die (2 channels x 6.4 GB/s) • On-chip temperature sensor to control self refresh rate • Partial-array self refresh (PASR) • Selectable output drive strength (DS) • Clock-stop capability • RoHS-compliant, "green" packaging • Programmable VSSQ (ODT) termination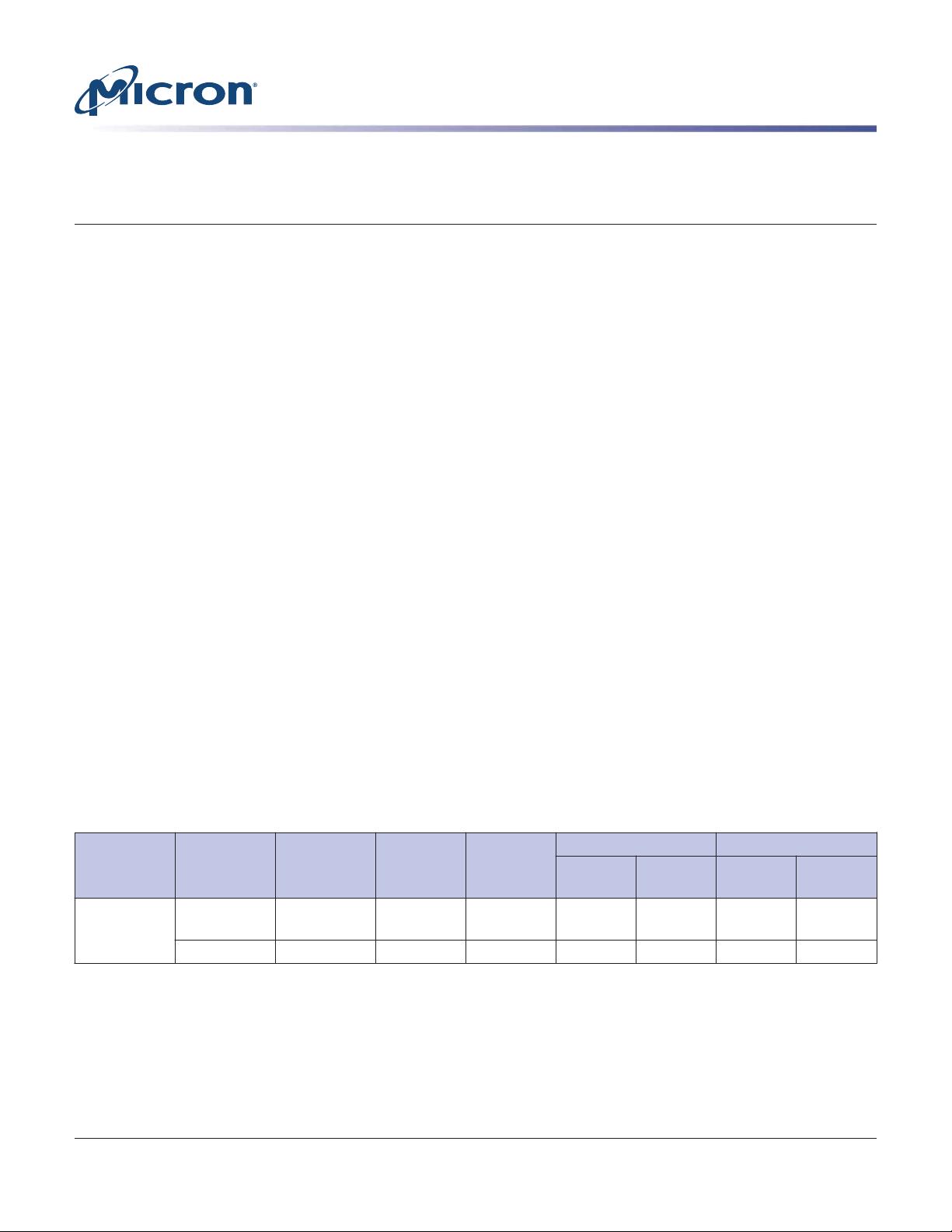 Mobile LPDDR4 SDRAM
MT53B256M32D1, MT53B512M32D2, MT53B1024M32D4
Features
•
Ultra-low-voltage core and I/O power supplies
–V
DD1
= 1.70–1.95V; 1.8V nominal
–V
DD2
/V
DDQ
= 1.06–1.17V; 1.10V nominal
–
1600–10 MHz (data rate range: 3200–20 Mb/s/
pin)
•16
n

prefetch DDR architecture
•
2-channel partitioned architecture for low RD/WR
energy and low average latency
•
8 internal banks per channel for concurrent opera-
tion
•
Single-data-rate CMD/ADR entry
•
Bidirectional/differential data strobe per byte lane
•
Programmable READ and WRITE latencies (RL/WL)
•
Programmable and on-the-fly burst lengths (BL =
16, 32)
•
Directed per-bank refresh for concurrent bank op-
eration and ease of command scheduling
•
Up to 12.8 GB/s per die (2 channels x 6.4 GB/s)
•
On-chip temperature sensor to control self refresh
rate
•
Partial-array self refresh (PASR)
•
Selectable output drive strength (DS)
•
RoHS-compliant, "green" packaging
SSQ
(ODT) termination
•V
DD1
/V
DD2
–
256 Meg x 32 (2 channels x16 I/O)
256M32
–
512 Meg x 32 (2 channels x16 I/O)
512M32
–
1024 Meg x 32 (2 channels x8 I/O x 2)
1024M32
–
256M16 x 2 channel x 1 die
D1
–
256M16 x 2 channel x 2 die
D2
–
512M8 x 2 channel x 4 die
D4
–
200-ball WFBGA (10mm x 14.5mm x
0.80mm)
NP
–
200-ball VFBGA (10mm x 14.5mm x
0.95mm)
NQ
•
Speed grade, cycle time
-062
–
625ps @ RL = 28/32 (x16 device)
–
625ps @ RL = 32/36 (x8 device)
•
Operating temperature range
Table 1: Key Timing Parameters
Speed
Grade
Array
configura-
tion
Device
Type
Clock Rate
(MHz)
Data Rate
(Mb/s/pin)
WRITE Latency
READ Latency
DBI
Disabled
DBI
Enabled
512Mb x 32
x16 device
1600
3200
14
26
28
32
1024Mb x 32
x8 device
1600
3200
14
26
32
36
Micron Confidential and Proprietary
Preliminary
‡
200b: x32 Mobile LPDDR4 SDRAM
Features
PDF: 09005aef8653a92d
200b_z01m_sdp_ddp_qdp_mobile_lpddr4.pdf – Rev. B 4/16 EN
1
Micron Technology, Inc. reserves the right to change products or specifications without notice.
© 2015 Micron Technology, Inc. All rights reserved.
‡Products and specifications discussed herein are for evaluation and reference purposes only and are subject to change by
Micron without notice. Products are only warranted by Micron to meet Micron's production data sheet specifications.
我的内容管理

收起

我的资源

快来上传第一个资源

我的收益

我的积分

登录查看自己的积分

我的C币

登录后查看C币余额

我的收藏

我的下载

下载帮助
资源上传下载、课程学习等过程中有任何疑问或建议,欢迎提出宝贵意见哦~我们会及时处理!
点击此处反馈