首页
MIPI Physical Layers M-PHY D-PHY C-PHY.pdf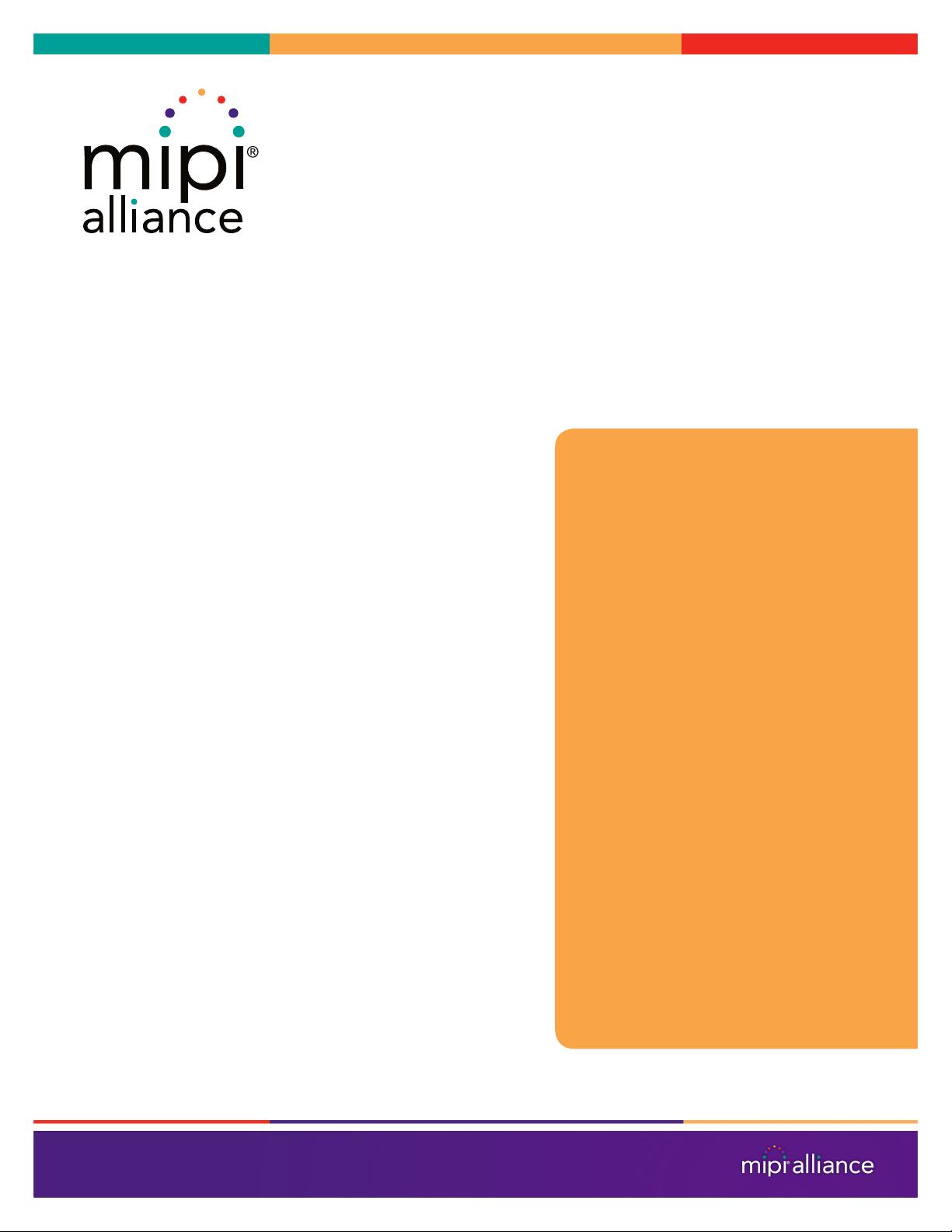 445 Hoes Lane
•
Piscataway, NJ 08854 USA
•
www.mipi.org
•
info@mipi.org
Overview
MIPI Alliance provides a set of specialized physical layers with both complementary and unique features to support a wide variety
of application protocols requiring high performance, low-power serial interfaces. MIPI denes camera, display, and chip-to-chip
protocol Specications that each support M-PHY, D-PHY and/or C-PHY; MIPI also cooperates closely with independent partner
organizations to create widely adopted industry specications that use M-PHY.
Each physical layer oers unique advantages and features that collectively address every important aspect of today's integrated
handheld mobile devices.
M-PHY (v3.1, June 2014)
M-PHY is an embedded clock serial interface technology with ultra-high
bandwidth capabilities, specically developed for the extreme performance
and low power requirements of mobile applications. It's designed for next
generation point-to-point interfaces and high speed component networks
using dual simplex architectures. M-PHY currently supports seven dierent
protocols, from advanced cameras to high speed memory, where low pin
count, lane scalability and power eciency are paramount requirements.
By transmitting in long or short bursts, M-PHY adapts to a wide range of
requirements while minimizing power consumption. Additionally, it operates
over various media types, including optical interconnects, by supporting
Media Converters.
D-PHY (v1.2, September 2014)
D-PHY is a serial interface technology using dierential signaling for band-
limited channels with scalable data lanes and a source synchronous clock to
support power ecient interfaces for streaming applications such as displays
and cameras. It oers half-duplex behavior for applications that benet from
bidirectional communication at transmission rates up to 2.5 Gigabit per lane.
C-PHY (v1.0, October 2014)
C-PHY requires few conductors, does not require a separate clock lane,
and provides flexibility to assign individual lanes in any combination
to any port on the application processor via software control. Due
to similarities in basic electrical specifications, C-PHY and D-PHY can
be implemented on the same device pins. 3-phase symbol encoding
technology delivers approximately 2.28 bits per symbol over a three-
wire group of conductors per lane. This enables higher data rates at a
lower toggling frequency, further reducing power.
Target Applications
•
Chip-to-chip Interconnect
Key Features
•
Optional support for optical interconnects
(M-PHY)
Key Benets
•
Unprecedented Flexibility
Support by the Industry
•
Shipping in millions of mobile products
•
JEDEC Universal Flash Storage
FEATURES
SPECIFICATION BRIEF
Physical Layers: M-PHY®, D-PHY, C-PHY
The material contained herein is not a license, either expressly or impliedly, to any IPR owned or controlled by any of the authors or developers of this material or MIPI. All materials contained herein are protected by
copyright laws, and may not be reproduced, republished, distributed, transmitted, displayed, broadcast or otherwise exploited in any manner without the express prior written permission of MIPI Alliance. MIPI®, M-PHY®,
UniPro
SM
, MIPI Alliance and the dotted rainbow arch and all related trademarks, trade names, and other intellectual property are the exclusive property of MIPI Alliance. All other trademarks, service marks, registered
trademarks, and registered service marks are the property of their respective owners.
我的内容管理

收起

我的资源

快来上传第一个资源

我的收益

我的积分

登录查看自己的积分

我的C币

登录后查看C币余额

我的收藏

我的下载

下载帮助
资源上传下载、课程学习等过程中有任何疑问或建议,欢迎提出宝贵意见哦~我们会及时处理!
点击此处反馈