首页
100G QSFP28 SR4 光模块数据手册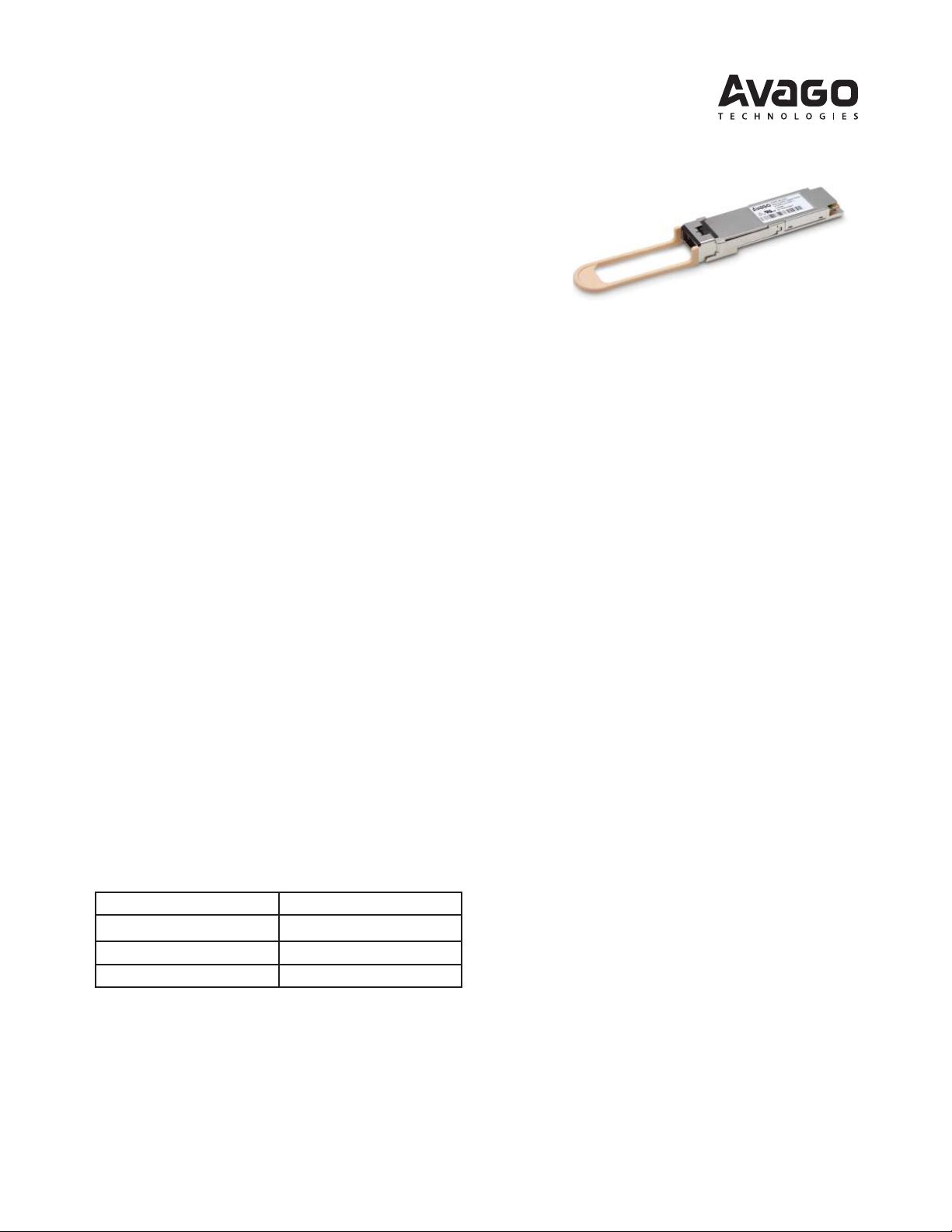 AFBR-89CDDZ
QSFP28 Pluggable, Parallel Fiber-Optics Module
100 Gigabit Ethernet Applications
850nm SR4, MMF, MPO Connector
Data Sheet
Description
The Avago Technologies AFBR-89CDDZ is a Four-Channel,
Pluggable, Multi-mode, Fiber-Optic QSFP28 transceiver
for 100 Gigabit Ethernet Applications. This transceiver is
a high performance module for short-range multi-lane
data communication and interconnect applications. It
integrates four data lanes in each direction with each
lane operating at 25.78125 Gbps, giving an aggregated
bandwidth of 103.125 Gbps. It allows optical interoper-
ability up to 100m over an 8- ber (or 12- ber) MPO opti-
cal multi-mode OM4 cable. The push-pull tab facilitates
the insertion and extraction of these transceivers in high
density environment. Each electrical lane operates at
25.78125 Gbps and conforms to the 100GE CAUI4 inter-
face with 802.3 Clause 91 RS-FEC.
Per channel transmitter and receiver retimers, con
gured
for 4x25G operation, can be bypassed to enable alterna-
tive data rate transmission.
These modules are designed to operate over multimode

ber systems using a nominal wavelength of 850nm. The
electrical interface uses a 38 contact QSFP28 edge type
connector. The optical interface uses a conventional 8-
-
ber (or 12-
ber) MPO connector. This module incorpo-
rates Avago Technologies proven integrated circuit and
VCSEL technology to provide reliable long life, high per-
formance, and consistent service.
Part Number Ordering Options
100 Gigabit Ethernet
AFBR-89CDDZ
Evaluation Board*
AFBR-89EVB
Evaluation Kit**
AFBR-89EVK
* Includes GUI and User Guide
**Includes GUI, User Guide, I2C controller, and power supply
cable
Features
• Compliant to 100GbE electrical and optical
speci
cations 802.3bm (Annex 83E CAUI-4 with Clause
91 RS-FEC, Clause 95 100GBASE-SR4)
•
100GbE Link Distances 100m OM4, 70m OM3
•
QSFP28 MSA Speci
cation Compliant, including new
functions per SFF-8636 Rev 2.4
•
Push-pull tab: ease of transceiver insertion and
extraction
•
Operates at 25.78125 Gbps or 10.3125 Gbps per
channel with 64b/66b coded data
•
0 to +70 ºC case temper
ature operating range
•
Proven High Reliability 850 nm technology: Avago
VCSEL transmitter and Avago PIN detector
• Hot pluggable QSFP28 transceiver for ease of
installation and servicing
•
Two Wire Serial (TWS) interface with Digital Monitoring
and maskable interrupts for expanded functionality
Applications
•
100 Gigabit Ethernet interconnects
•
Datacom/Telecom switch & router connections
•
Data aggregation and backplane applications
•
Proprietary protocol and density applications
Avago Technologies Con
dential
我的内容管理

收起

我的资源

快来上传第一个资源

我的收益

我的积分

登录查看自己的积分

我的C币

登录后查看C币余额

我的收藏

我的下载

下载帮助
资源上传下载、课程学习等过程中有任何疑问或建议,欢迎提出宝贵意见哦~我们会及时处理!
点击此处反馈