首页
The Linux Kernel Primer A Top-Down Approach for x86 and PowerPC Architectures
The Linux Kernel Primer A Top-Down Approach for x86 and PowerPC ...

4星
· 超过85%的资源
需积分: 9
137 浏览量
更新于2023-03-16
评论
2 收藏
4.51MB
PDF
举报
Top Reasons people will buy this book: -Covers Linux on PPC -Top-down approach traces functionality from user space into the kernel -Lots of code commentary and examples. It walks you through the actual source code implementation. -Side by side comparison of x86 and PPC -Hands on Examples and Projects -Covers the kernel build system. The "Linux Kernel Primer" offers a comprehensive view of the underpinnings of the Linux kernel. This book starts with a guide of the necessary tools a developer needs to be able to understand and manipulate the source code including cryptic programming fundamentals found throughout the kernel code. It then follows up with an in depth analysis of the major subsystems including process management, memory management, scheduling, I/O, and filesystems. This book also provides information necessary to get started developing on the Linux kernel. The specifics of Intel and PowerPC architecture implementations are covered side by side providing perspective on architecture specific features and how Linux make use of them. Similar in approach to Kernighan's "Practice of Programming" 020161586X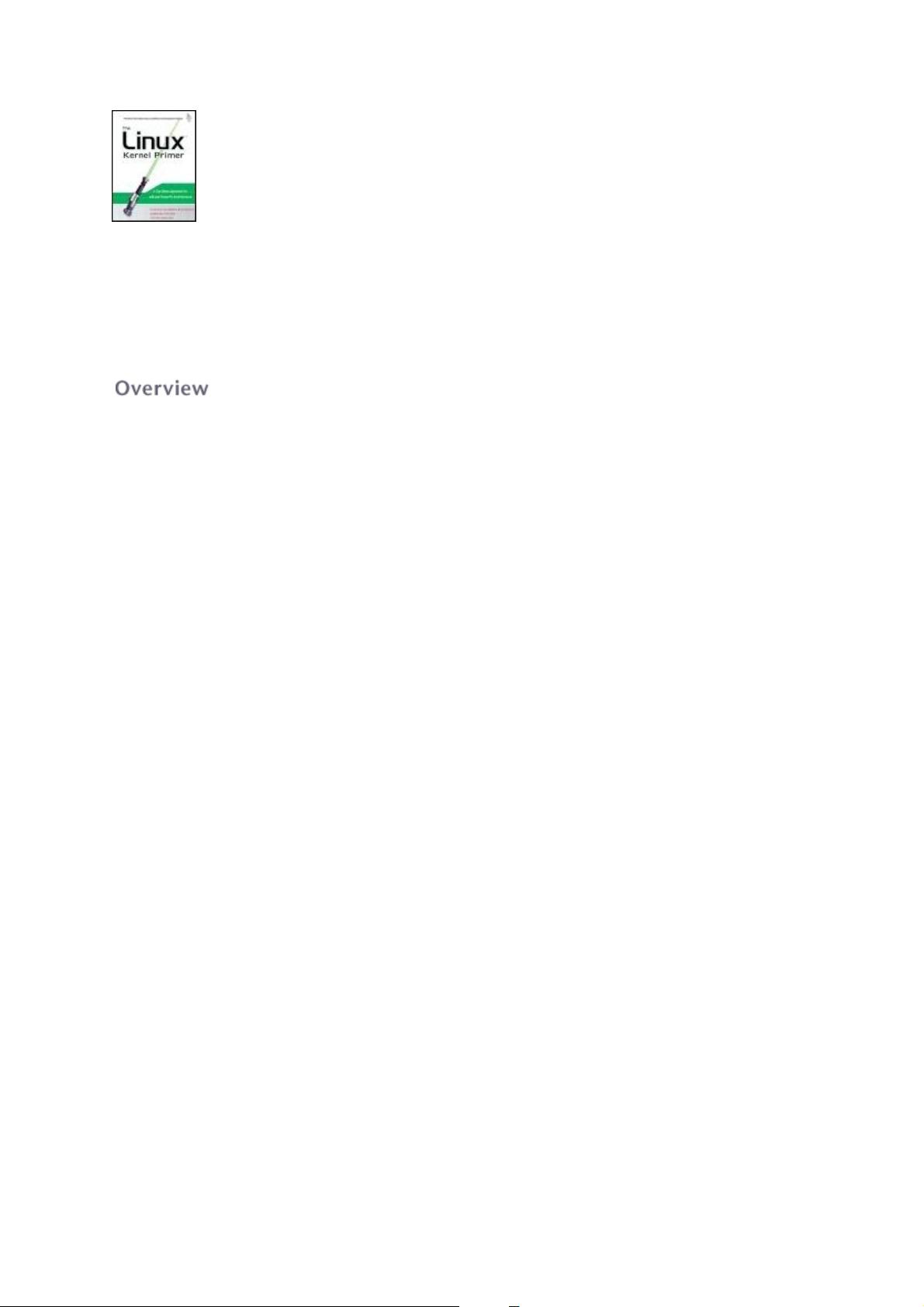 The Linux® Kernel Primer: A Top-Down
Approach for x86 and PowerPC
Architectures
By Claudia Salzberg Rodriguez,
Gordon Fischer, Steven Smolski
...............................................
Publisher:
Prentice Hall PTR
Pub Date:
September 21, 2005
Table of Contents
|
Index
Learn Linux kernel programming, hands-on: a uniquely effective top-down approach
The Linux® Kernel Primer is the definitive guide to Linux kernel programming. The authors' unique
top-down approach makes kernel programming easier to understand by systematically tracing functionality
from user space into the kernel and carefully associating kernel internals with user-level programming
fundamentals. Their approach helps you build on what you already know about Linux, gaining a deep
understanding of how the kernel works and how its elements fit together.
One step at a time, the authors introduce all the tools and assembly language programming techniques
required to understand kernel code and control its behavior. They compare x86 and PowerPC
implementations side-by-side, illuminating cryptic functionality through carefully-annotated source code
examples and realistic projects. The Linux® Kernel Primer is the first book to offer in-depth coverage of the
rapidly growing PowerPC Linux development platform, and the only book to thoroughly discuss kernel
configuration with the Linux build system. Coverage includes
x86 and PPC assembly language
•
Viewing kernel internals
•
Interrupts and exceptions
•
Memory allocation and tracking
•
Tracing subsystem behavior
•
Filesystems and file operations
•
Scheduling and synchronization
•
If you know C, this book teaches you all the skills and techniques you need to succeed with Linux kernel
programming. Whether you're a systems programmer, software engineer, systems analyst, test professional,
open source project contributor, or simply a Linux enthusiast, you'll find it indispensable.
© Copyright Pearson Education. All rights reserved.
1
1
我的内容管理

收起

我的资源

快来上传第一个资源

我的收益

我的积分

登录查看自己的积分

我的C币

登录后查看C币余额

我的收藏

我的下载

下载帮助
资源上传下载、课程学习等过程中有任何疑问或建议,欢迎提出宝贵意见哦~我们会及时处理!
点击此处反馈