首页
ThinkSystem SR590 Server Product Guide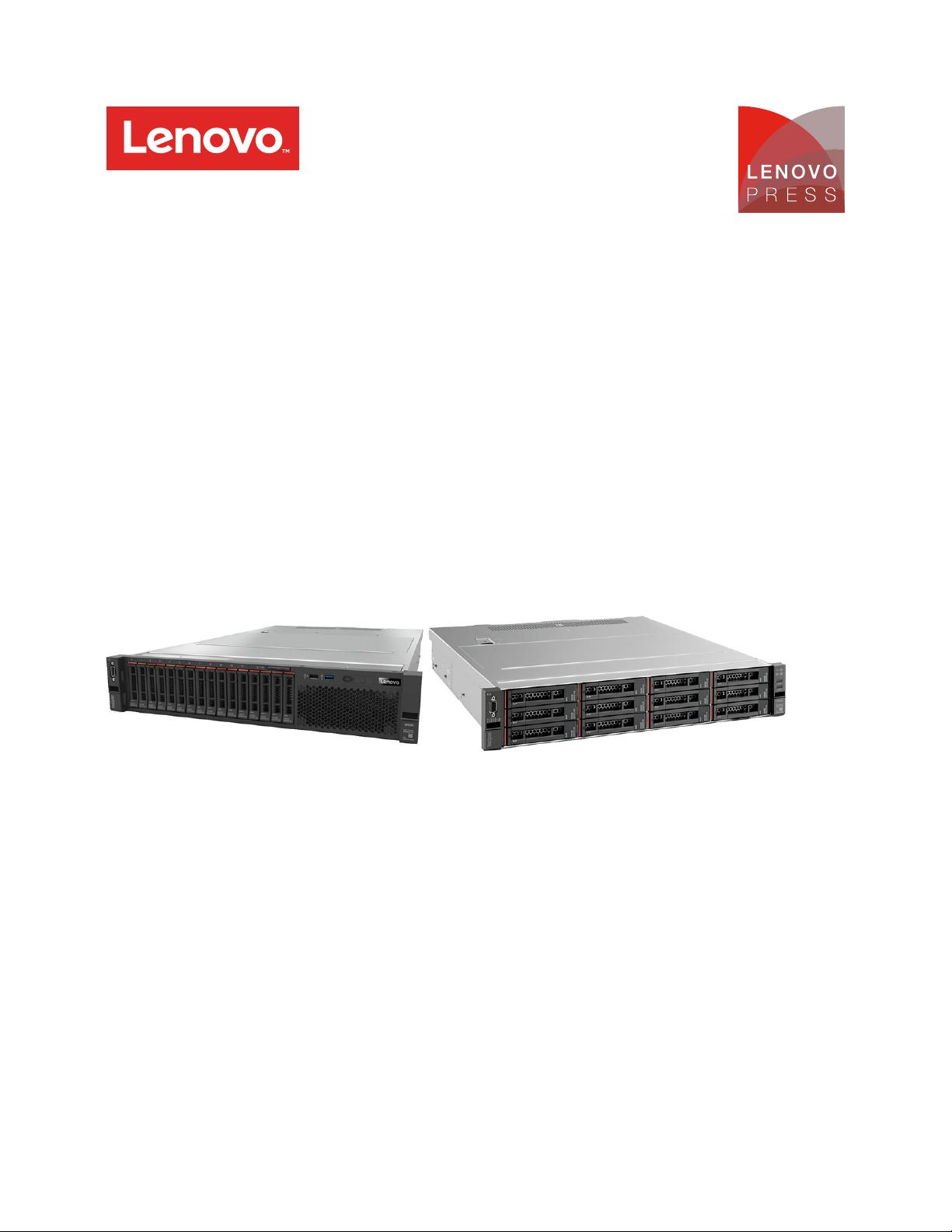 Lenovo ThinkSystem SR590 Server
Product Guide
Lenovo ThinkSystem SR590 is a 2-socket 2U rack server for small businesses up to large enterprises that need
industry-leading reliability, management, and security, as well as balancing performance and expandability. The
SR590 server is designed to handle a wide range of workloads, such as virtualization and cloud computing, IT
infrastructure, enterprise applications, collaboration/email, and web serving.
Featuring the Intel Xeon Processor Scalable Family, the SR590 server offers balanced performance, storage
capacity, and I/O expansion. The SR590 server supports up to two processors, up to 1 TB of 2666 MHz
TruDDR4 memory, up to 16x 2.5-inch or 14x 3.5-inch drive bays with an extensive choice of NVMe PCIe SSDs,
SAS/SATA SSDs, and SAS/SATA HDDs, and flexible I/O expansion options with the LOM slot and up to 6x
PCIe slots.
The SR590 server offers basic software RAID or advanced hardware RAID protection and a wide range of
networking options, including selectable LOM, ML2, and PCIe network adapters. The next-generation Lenovo
XClarity Controller, which is built into the SR590 server, provides advanced service processor control,
monitoring, and alerting functions.
The following figure shows the ThinkSystem SR590 models.
Figure 1. Lenovo ThinkSystem SR590: 16x SFF (left) or 12x LFF (right) drive bays
Did you know?
The SR590 server features a unique AnyBay design that allows a choice of drive interface types in the same
drive bay: SAS drives, SATA drives, or U.2 NVMe PCIe drives.
The SR590 server offers onboard NVMe PCIe ports that allow direct connections to the U.2 NVMe PCIe SSDs,
which frees up I/O slots and helps lower NVMe solution acquisition costs.
The SR590 server delivers impressive compute power per watt, featuring 80 PLUS Titanium and Platinum
redundant power supplies that can deliver 96% (Titanium) or 94% (Platinum) efficiency at 50% load when
connected to a 200 - 240 V AC power source.
The SR590 server is designed to meet ASHRAE A4 standards (up to 45 °C [113 °F]) in select configurations,
which enable customers to lower energy costs, while still maintaining world-class reliability.
Lenovo ThinkSystem SR590 Server
1
Click here to check for updates
我的内容管理

收起

我的资源

快来上传第一个资源

我的收益

我的积分

登录查看自己的积分

我的C币

登录后查看C币余额

我的收藏

我的下载

下载帮助
资源上传下载、课程学习等过程中有任何疑问或建议,欢迎提出宝贵意见哦~我们会及时处理!
点击此处反馈