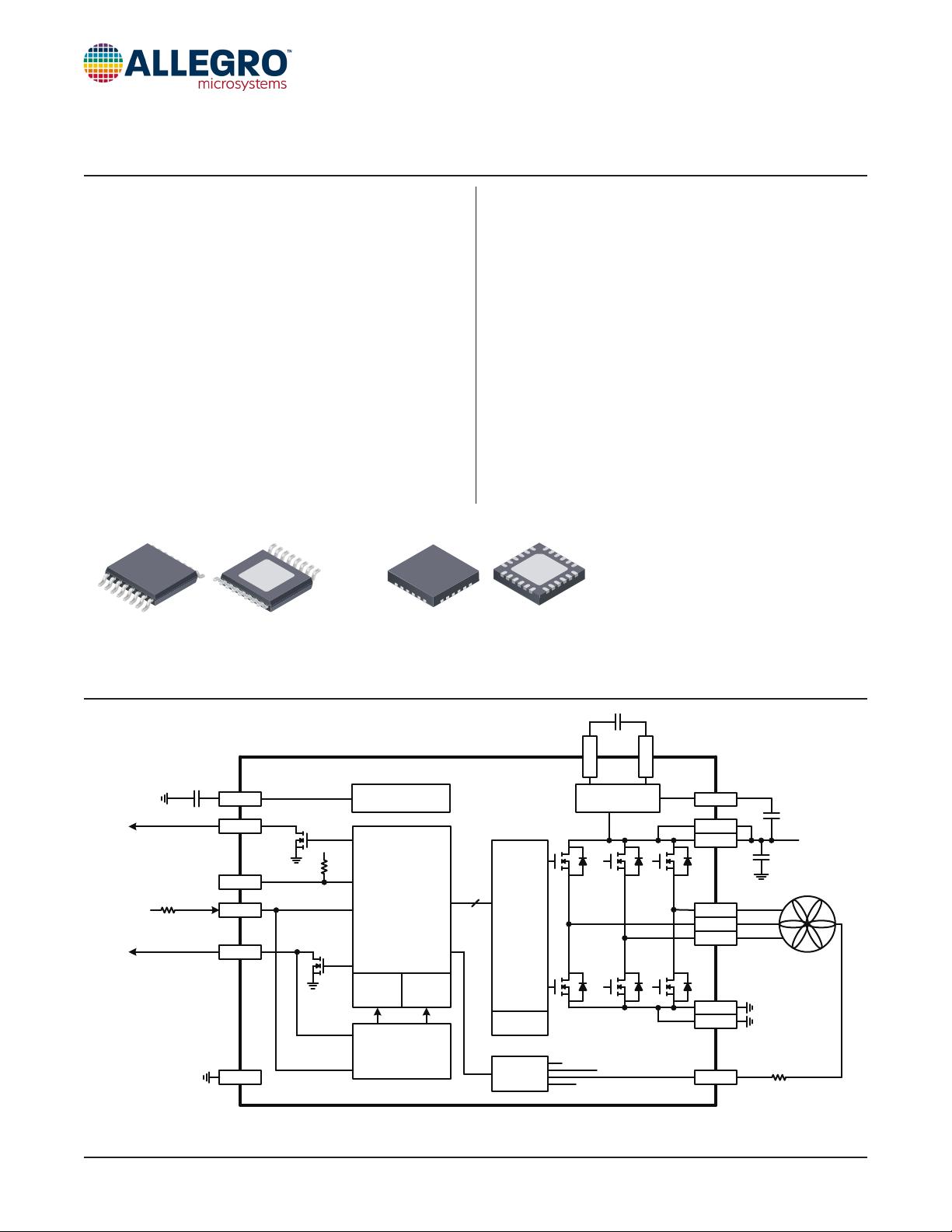 The A5931 three-phase motor driver IC incorporates sensorless
sinusoidal drive to minimize vibration for high speed server
fans. Sensorless control eliminates the requirement for Hall
sensors for server fan applications.
A flexible closed-loop speed control system is integrated into
the IC. EEPROM is used to tailor the common functions of the
fan speed curve to a specific application. This eliminates the
requirement for a microprocessor-based system and minimizes
programming requirements.
The A5931 is available in a 24-contact 4 mm × 4 mm QFN
with exposed thermal pad (suffix ES), and a 16-lead TSSOP
with exposed thermal pad (suffix LP). These packages are lead
(Pb) free, with 100% matte-tin leadframe plating.
A5931-DS, Rev. 8
MCO-0000278
•
AEC-Q100 qualified (K version)
•
Closed-loop speed control
•
Speed curve configuration via EEPROM
2
C serial port
•
Sinusoidal modulation for reduced audible noise and
low vibration
•
Sensorless (no Hall sensors required)
DS(ON)
power MOSFETs—3 A capability
•
Minimal external components
•
Shorted load protection
Three-Phase Sensorless Fan Driver IC
PACKAGES:
Figure 1
: Typical Application
Not to scale
A5931
FEATURES AND BENEFITS
DESCRIPTION
VBB
+12 V
IN
Current
Limit
FG
6
Timing control
GATE
DRIVE
VREF
0.1 µF
VREF
SPD
I2C/EEPROM
Duty In
Speed
Control
Loop
System
Variables
DATA
CLK
GND
SC
SB
SA
Posion
Measure
CP1
CP1
VCP
Charge Pump
LSS
CTAP
OUTA
OUTB
OUTC
RD
0.1 µF
0.1 µF
22 µF
VBB
LSS
DIR
2 kΩ
A5931
24-contact QFN
with exposed thermal pad
4 mm × 4 mm × 0.75 mm
(ES package)
16-lead TSSOP
with exposed thermal pad
(LP package)
July 25, 2019
我的内容管理

收起

我的资源

快来上传第一个资源

我的收益

我的积分

登录查看自己的积分

我的C币

登录后查看C币余额

我的收藏

我的下载

下载帮助
资源上传下载、课程学习等过程中有任何疑问或建议,欢迎提出宝贵意见哦~我们会及时处理!
点击此处反馈