首页
射频实测接受灵敏度的方法Practical Sensitivity Testing.pdf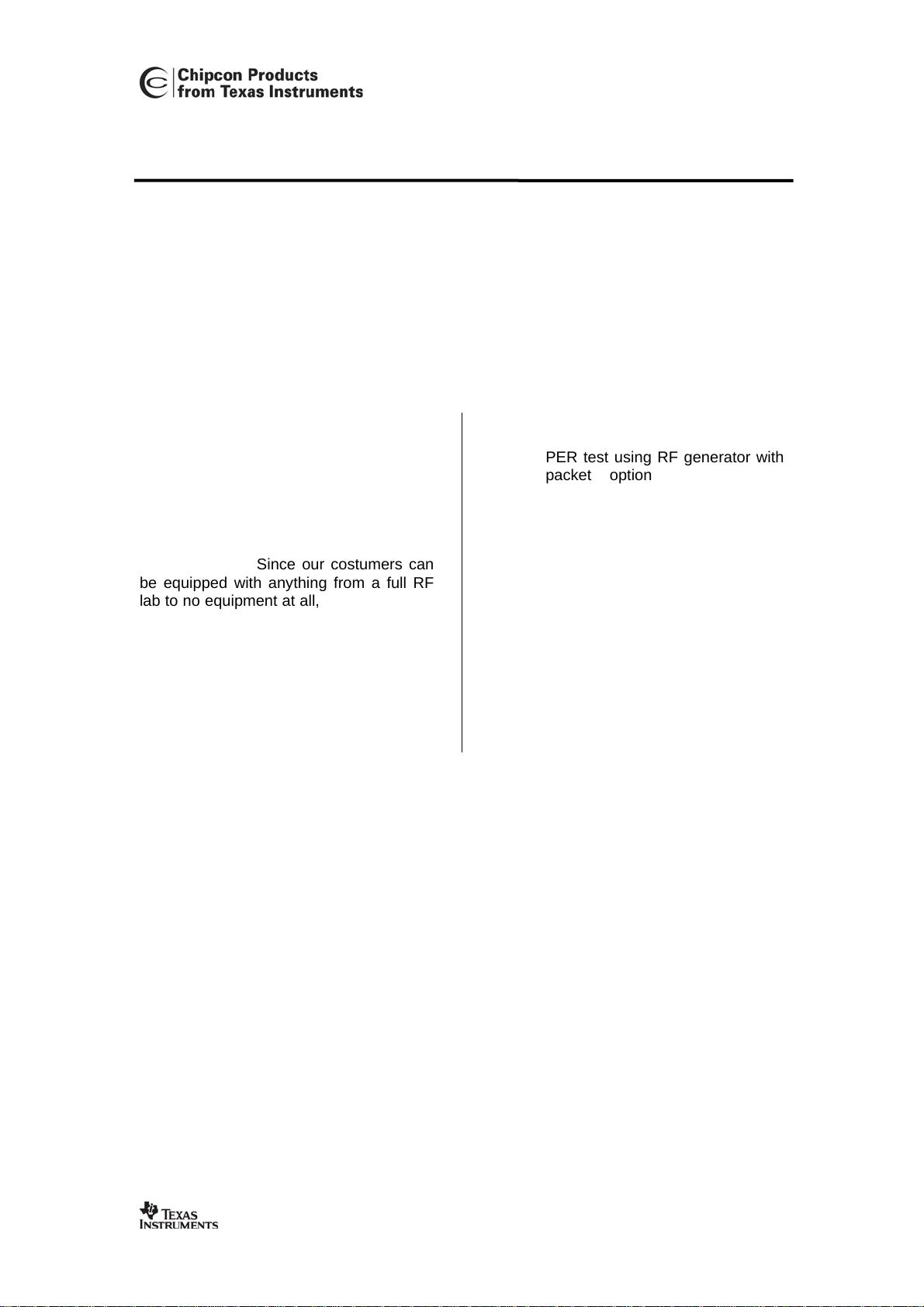 Design Note
DN002
Practical Sensitivity Testing
By Morten Engjom
Keywords
•
PER (Packet Error Rate)
1 Introduction
To properly evaluate the receiver part of a
transceiver, it is necessary to be able to
find the sensitivity threshold, i.e. the
lowest input signal the receiver can
decode with acceptable signal quality.
There are several approaches to find the
sensitivity threshold of a receiver, but the
various methods require different levels of
instrumentation.
Since our costumers
can
be equipped with anything from a full
RF
lab
to
no
equipment at all,
this design note
covers both simple and more complex
methods. The design note uses
CC1100/CC2500 to illustrate the methods,
but the principles can be used also for any
other of our products.
The sensitivity measurements described in
this document are:
1)
PER test using RF
generator
with
packet
option
and SmartRF
®
Studio to receive the packets.
2) Overview of PER test using
LabView and dedicated RF
generator with packet option (for
automated testing).
3) BER test with dedicated BER
tester, using the transceiver in
"synchronous serial mode".
4) BER test with oscilloscope to
decide the received bit errors.
Transceiver used in "synchronous
serial mode".
5)
PER test using SmartRF
®
Studio
packet test and attenuators to find
the link budget.
我的内容管理

收起

我的资源

快来上传第一个资源

我的收益

我的积分

登录查看自己的积分

我的C币

登录后查看C币余额

我的收藏

我的下载

下载帮助
资源上传下载、课程学习等过程中有任何疑问或建议,欢迎提出宝贵意见哦~我们会及时处理!
点击此处反馈