首页
【产品手册】_DE2000H product guide.pdf
【产品手册】_DE2000H product guide.pdf
需积分: 50
1.9k 浏览量
更新于2023-05-27
评论
收藏
838KB
PDF
举报
【产品手册】_DE2000H product guide,学习和配置文档,【产品手册】_DE2000H product guide,学习和配置文档,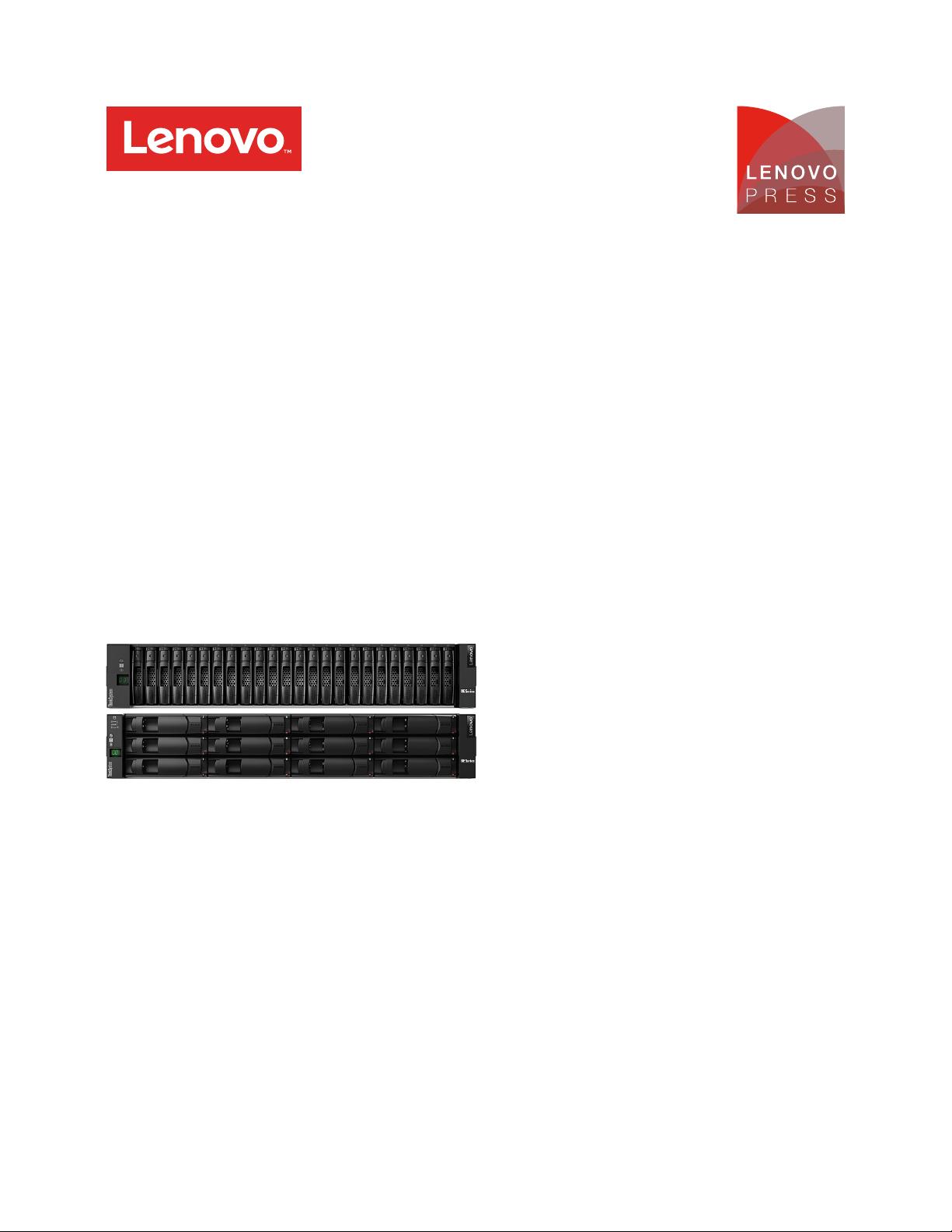 Lenovo ThinkSystem DE2000H Hybrid Storage Array
Product Guide
Lenovo ThinkSystem DE2000H is a low-cost, hybrid entry-level storage system that is designed to provide
performance, simplicity, capacity, security, and high availability for small to large businesses. It delivers
enterprise-class storage management capabilities with a wide choice of host connectivity options, flexible
drive configurations, and enhanced data management features. The ThinkSystem DE2000H is a perfect fit for
small offices and remote and branch offices of large enterprises that run a wide range of workloads, including
big data and analytics, video surveillance, technical computing, backup and recovery, and other storage I/O-
intensive applications.
ThinkSystem DE2000H models are available in a 2U rack form-factor with 24 small form-factor (2.5-inch SFF)
drives (2U24 SFF) or 12 large form-factor (3.5-inch LFF) drives (2U12 LFF) and include two controllers, each
with 8 GB cache for a system total of 16 GB. Universal 10 Gb iSCSI or 8/16 Gb Fibre Channel (FC) ports
provide base host connectivity, with an option for 12 Gb SAS or 1/10 Gb iSCSI RJ-45 connections with the
host interface cards.
The ThinkSystem DE2000H Storage Array scales up to 96 drives with the attachment of Lenovo ThinkSystem
DE120S 2U12 and DE240S 2U24 SFF Expansion Enclosures. It also offers flexible drive configurations with
the choice of 2.5-inch (SFF) and 3.5-inch (LFF) form factors, 10 K rpm SAS and 7.2 K rpm NL SAS hard disk
drives (HDDs), and SAS solid-state drives (SSDs).
Figure 1. Lenovo ThinkSystem DE2000H 2U24 SFF (top) and 2U12 LFF (bottom) enclosures
Did you know?
The ThinkSystem DE2000H scales up to 1.47 PB of raw storage capacity.
The ThinkSystem DE2000H offers block storage connectivity with support for 10 Gb iSCSI SFP+, 8/16 Gb FC,
12 Gb SAS, or 1/10 Gb iSCSI RJ-45 technologies.
For the ThinkSystem DE2000H, customers can change the host port protocol from FC to iSCSI or from iSCSI
to FC for the SFP+ host ports built into the controller (base host ports).
Lenovo ThinkSystem DE2000H Hybrid Storage Array
1
Click here to check for updates
我的内容管理

收起

我的资源

快来上传第一个资源

我的收益

我的积分

登录查看自己的积分

我的C币

登录后查看C币余额

我的收藏

我的下载

下载帮助
资源上传下载、课程学习等过程中有任何疑问或建议,欢迎提出宝贵意见哦~我们会及时处理!
点击此处反馈