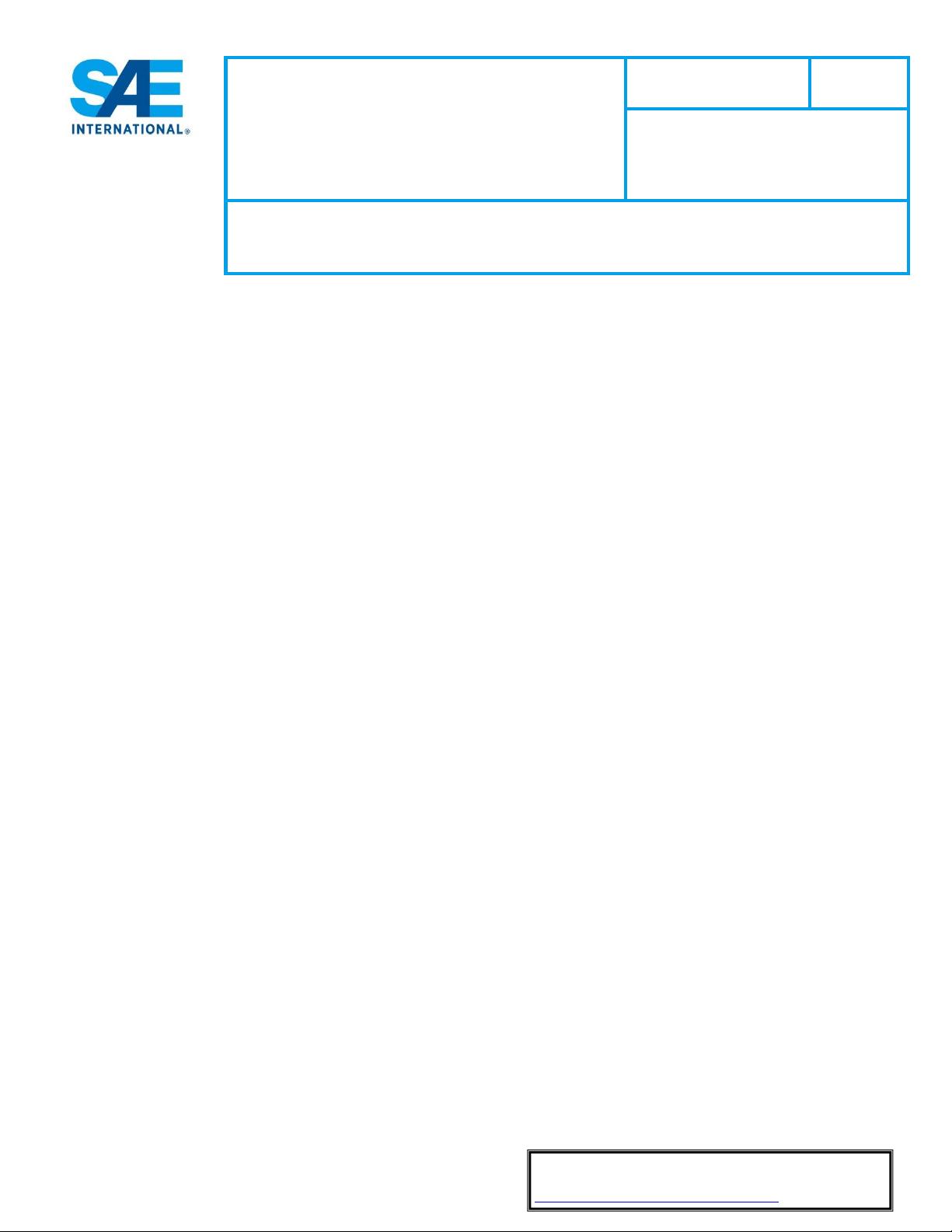 __________________________________________________________________________________________________________________________________________
SAE Technical Standards Board Rules provide that: "This report is published by SAE to advance the state of technical
and engineering sciences. The use of this report is entirely
voluntary, and its applicability and suitability for any particular use, including any patent infringement arising therefrom,
is the sole responsibility of the user."
SAE reviews each technical
report at least every five years at which time it may be revised, reaffirmed, stabilized,
or cancelled.
SAE
invites
your written comments
and
suggestions.
Copyright © 2018 SAE International
All rights reserved. No part of this publication may be reproduced, stored in a retrieval system or transmitted, in any form or by any means, electronic, mechanical, photocopying,
recording, or otherwise, without the prior written permission of SAE. SAE hereby grants a limited, royalty free license to any interested person or entity to print or download from
the SAE International website, and then store and display, a single copy of this publication in paper form or in electronic form on a website, computer, or e-room for reference,
reading or review by any interested person or entity provided this notice appears on the publication and the publication cannot be, or is prohibited from being, removed, recorded,
copied, downloaded, printed, or transmitted.
TO PLACE A DOCUMENT ORDER:
Tel: 877-
606
-7323 (inside USA and Canada)
Tel: +1 724-776-4970 (outside USA)
Email:
CustomerService@sae.org
SAE WEB ADDRESS:
http://www.sae.org
SAE values your input. To provide feedback
on this Technical Report, please visit
http://standards.sae.org/J2016_201806
Superseding J3016 SEP2016
(R) Taxonomy and Definitions for Terms Related to Driving Automation
Systems for On-Road Motor Vehicles
RATIONALE
This revision of Recommended Practice J3016 adds several new terms and definitions, corrects a few errors, and adds
further clarification (especially in Section 8) to address frequently misunderstood concepts. As in the previous version, it
fg
functional definitions for advanced levels of

driving automation

and related terms and definitions. This Recommended
Practice does not provide
specifications, or otherwise impose requirements on,
driving automation systems
(for further
elaboration, see 8.1
).
Standardiz
31
ing levels of
driving automation

and supporting terms serves several purposes, including:
1.
Clarifying the role of the (human)

driver

, if any, during

driving automation

system

engagement.
2.
Answering questions of scope when it comes to developing laws, policies, regulations, and standards.
3.
Providing a useful framework for

driving automation

specifications and technical requirements.
4.
Providing clarity and stability in communications on the topic of

driving automation

, as well as a useful short-hand that
saves considerable time and effort.
This document has been developed according to the following guiding principles, namely, it should:
1.
Be descriptive and informative rather than normative.
2.
Provide functional definitions.
3.
Be consistent with current industry practice.
4.
Be consistent with prior art to the extent practicable.
5.
Be useful across disciplines, including engineering, law, media, public discourse.
6.
Be clear and cogent and, as such, it should avoid or define ambiguous terms.
Downloaded from SAE International by jerry five, Tuesday, June 26, 2018
我的内容管理

收起

我的资源

快来上传第一个资源

我的收益

我的积分

登录查看自己的积分

我的C币

登录后查看C币余额

我的收藏

我的下载

下载帮助
资源上传下载、课程学习等过程中有任何疑问或建议,欢迎提出宝贵意见哦~我们会及时处理!
点击此处反馈