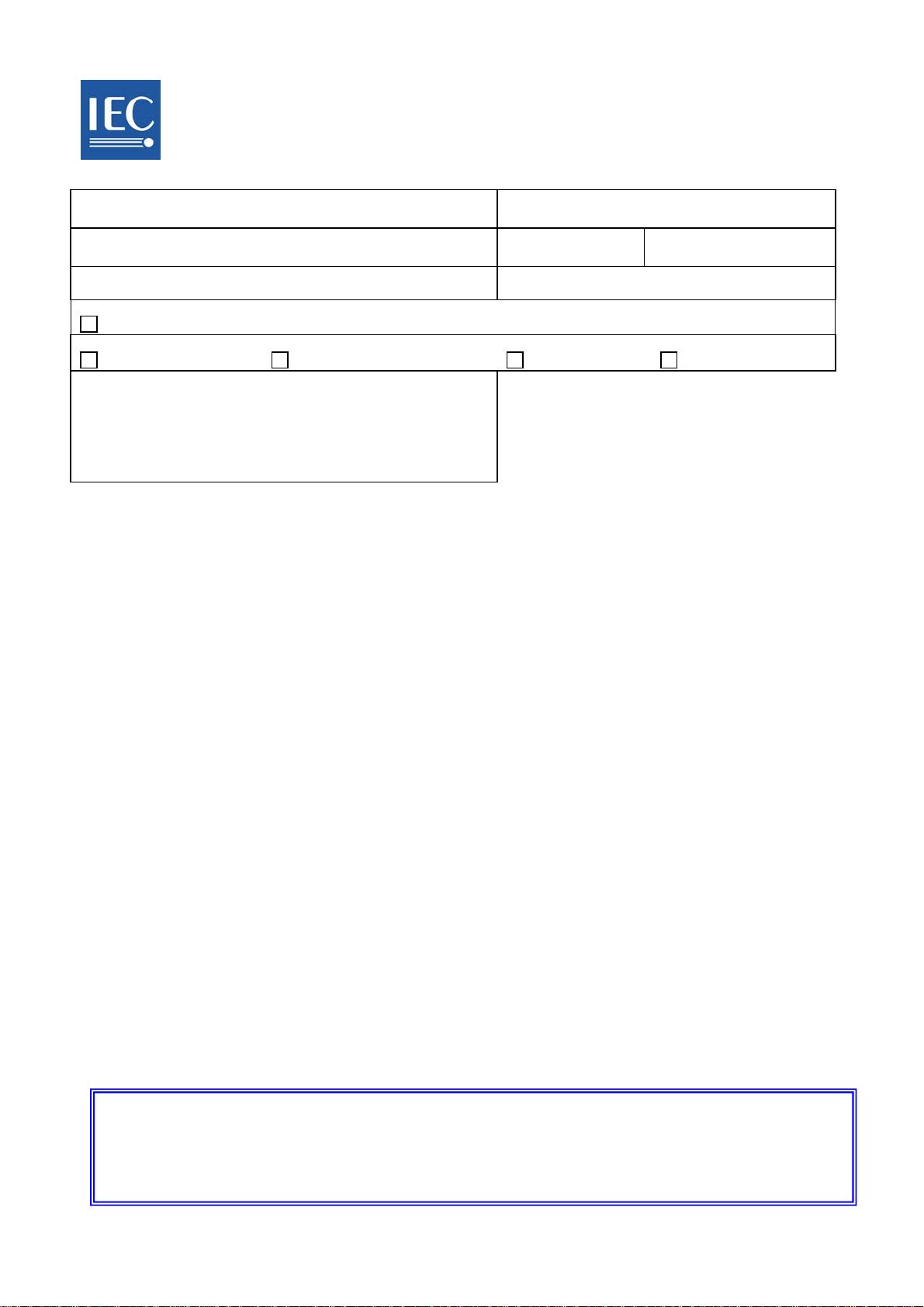 FORM CD (IEC)
2009-01-09
® Registered trademark of the International Electrotechnical Commission
34C/928/CD
COMMITTEE DRAFT (CD)
34C
IEC 62386-103 Ed. 1
Title of TC/SC:
Date of circulation
2010-07-09
Closing date for comments
2010-10-15
Also of interest to the following committees
34C/830/NP - 34C/851A/RVN
Proposed horizontal standard
Other TC/SCs are requested to indicate their interest, if any, in this CD to the TC/SC secretary
Functions concerned:
Safety
EMC

Environment

Quality assurance
BSI - UK Bernd Borchert
THIS DOCUMENT IS STILL UNDER STUDY AND SUBJECT
TO CHANGE
.
IT SHOULD NOT BE USED FOR REFERENCE
PURPOSES
.
RECIPIENTS OF THIS DOCUMENT ARE INVITED TO
SUBMIT
,
WITH THEIR COMMENTS

,

NOTIFICATION OF ANY
RELEVANT PATENT RIGHTS OF WHICH THEY ARE AWARE
AND TO PROVIDE SUPPORTING DOCUMENTATION
.
Title:
Digital addressable lighting interface - Part 103: General requirements – Control
devices
(Titre) :
Introductory note
Copyright © 2010 International Electrotechnical Commission, IEC
. All rights reserved. It is
permitted to download this electronic file, to make a copy and to print out the content for the sole
purpose of preparing National Committee positions. You may not copy or "mirror" the file or
printed version of the document, or any part of it, for any other purpose without permission in
writing from IEC.
®
我的内容管理

收起

我的资源

快来上传第一个资源

我的收益

我的积分

登录查看自己的积分

我的C币

登录后查看C币余额

我的收藏

我的下载

下载帮助
资源上传下载、课程学习等过程中有任何疑问或建议,欢迎提出宝贵意见哦~我们会及时处理!
点击此处反馈