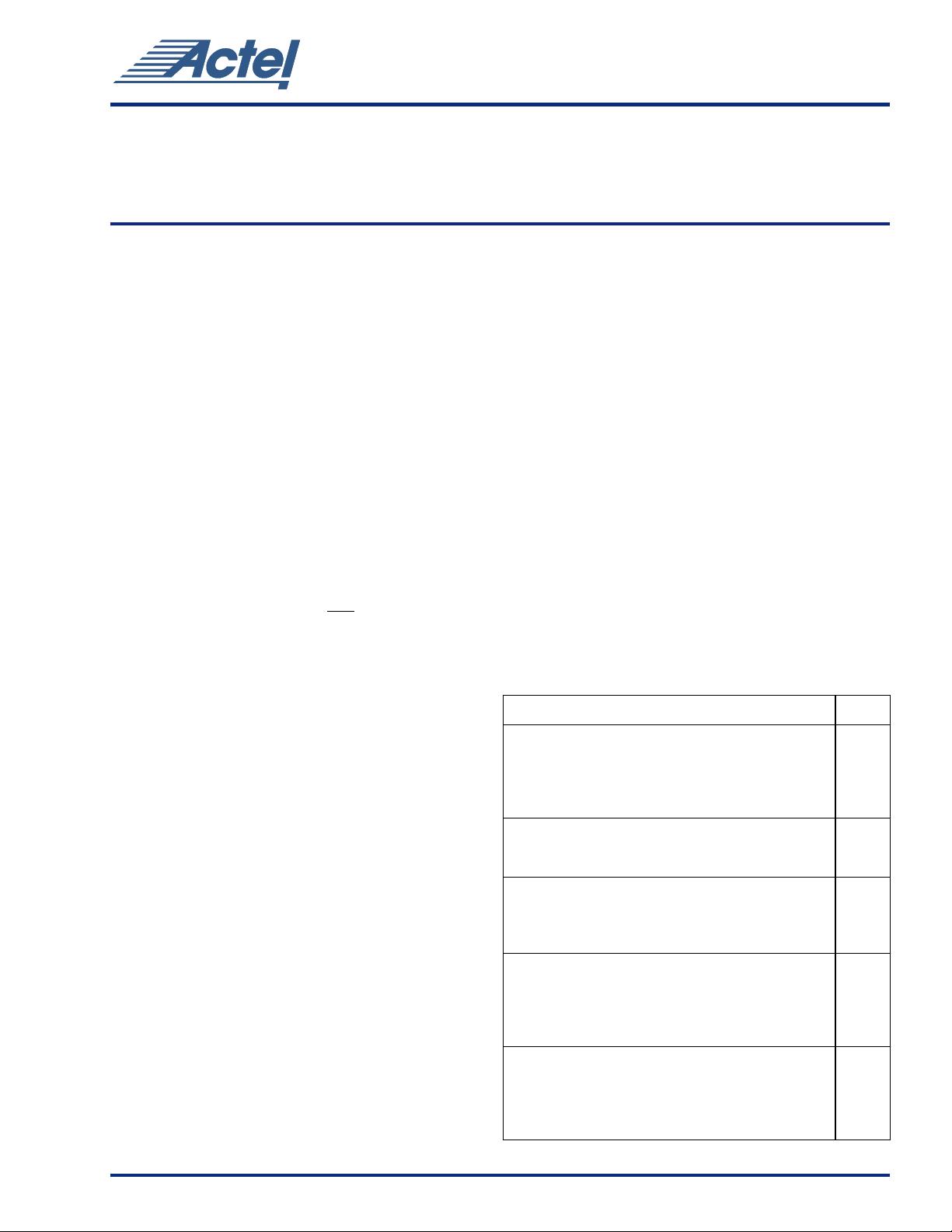 © 2003 Actel Corporation
Application Note
Programming Actel Devices
This overview of different programming options for Actel FP
GAs describes the types of programming available and the
hardware solutions currently offered by Actel and other vendor
s. The electronic version of this document includes active
links to all programming resources and is available at
http://www.actel.com/products/tools/prog.asp
.
Programming Basics
When choosing a programmable solution, there are a number of
choices you can make about how to program your devices.
This section gives a brief overview of the options available to yo
u. The next sections provide more detail on those options as
they apply to Actel FPGAs.
Reprogrammable or OTP?
Depending on the technology you choose, your devices may
be reprogrammable or one-time-programmable (OTP). As the
name implies, a reprogrammable device can be programmed many times. Generally such a device will overwrite the entire
program when reprogrammed.
An OTP device is programmable one time only. Once programme
d, no more changes can be made to the contents. Some
technologies are reprogrammable, with an option to make
them OTP for maximum security. While reprogrammability is
generally desirable, OTP technologies like
that used in Actel's antifuse families provide other important performance,
security, and radiation-tolerant features that are a top priority for many designers.
Actel's reprogrammable ProASIC
PLUS
family also provides the option of disabling the reprogrammability for security
purposes. This allows you to combine the convenience of reprogrammability during design verification with the security of an
OTP technology for highly sensitive designs.
Device Programmer or ISP?
There are two fundamental ways to program an FPGA: use a
device programmer, or, if the technology permits, use
in-system programming (ISP). A device programmer is a
piece of equipment that can reside in a lab or a production
floor that is used for programming devices. The devices are
placed into some kind of a socket, and the appropriate
electrical interface is applied. The device can then be
placed onto the board. A typical programmer used during
development would program a single device at a time, and
is referred to as a Single-Site programmer.
With ISP, the unprogrammed device is mounted onto the
board, and some method is provided to get to the
programming pins. Most commonly this is through a JTAG
interface and header, which can be connected to a simple
external programmer. Once the device is in place, it can be
programmed repeatedly. If the application requires it, it is
also possible to design the system to reprogram itself
without the use of any external programmer. ISP is
described in more detail below.
For production, there are high-volume Multi-Site
production programmers and handlers for those designs
using a device programmer. If ISP is being used, it is
Section Page
Device Programmer or ISP?
Live at Power-Up or Boot PROM?
Do I Want To Protect the Contents of My FPGA?
2
Programming Features for Actel Devices
Antifuse Devices
3
In System Programming (ISP)
Volume Programming Services
5
Programmer Ordering Codes
Programmer Device Support
Certified Programming Solutions
Programming Yield and RMA Procedures
9
Documentation for Discontinued Products
10
我的内容管理

收起

我的资源

快来上传第一个资源

我的收益

我的积分

登录查看自己的积分

我的C币

登录后查看C币余额

我的收藏

我的下载

下载帮助
资源上传下载、课程学习等过程中有任何疑问或建议,欢迎提出宝贵意见哦~我们会及时处理!
点击此处反馈