首页
ANSI-VITA 62-2016 Modular Power Supply Standard.pdf
ANSI-VITA 62-2016 Modular Power Supply Standard.pdf
需积分: 50
555 浏览量
更新于2023-05-26
评论
收藏
4.7MB
PDF
举报
VITA 62-2016 英文原版标准,带目录。 VITA 62 defines both the mechanical and electrical requirements for COTS modules intended for creating modular power supplies. The primary focus is to support [VITA 46.0] and [VITA 65] systems with off the shelf modules that are compatible with the VPX specifications. The embedded market has focused primarily on the need to standardize the use of COTS processing add-in modules as part of the VPX suite of standards. Before this standard system designers treated the power supply as a necessary evil, which is often an afterthought. Modular power supply suppliers provided ad hoc solutions that system developers must implement. Providing power for these systems had historically been left up the module vendor, requiring them to define what has, at times, been seen as a form of "black art." This standard, however, defines a set of rules by which industry power supply vendors can build COTS products, for VPX systems, that will fit into VITA 62 compatible backplanes. Consequently, system developers can have multiple vendors for power supply modules. At this time the focus of this standard is to define modules for VPX systems. In the future this standard may also be extended into other form factors. As part of the work to create VITA 62, a new connector system has been defined, optimized for the needs of VITA 62. This connector mechanically fits within the envelope defined in [VITA 46.0] for 3U and 6U Plug-In modules. This will facilitate the production of backplanes and allow system designers to define where and how many power supply modules are to be used within any given system.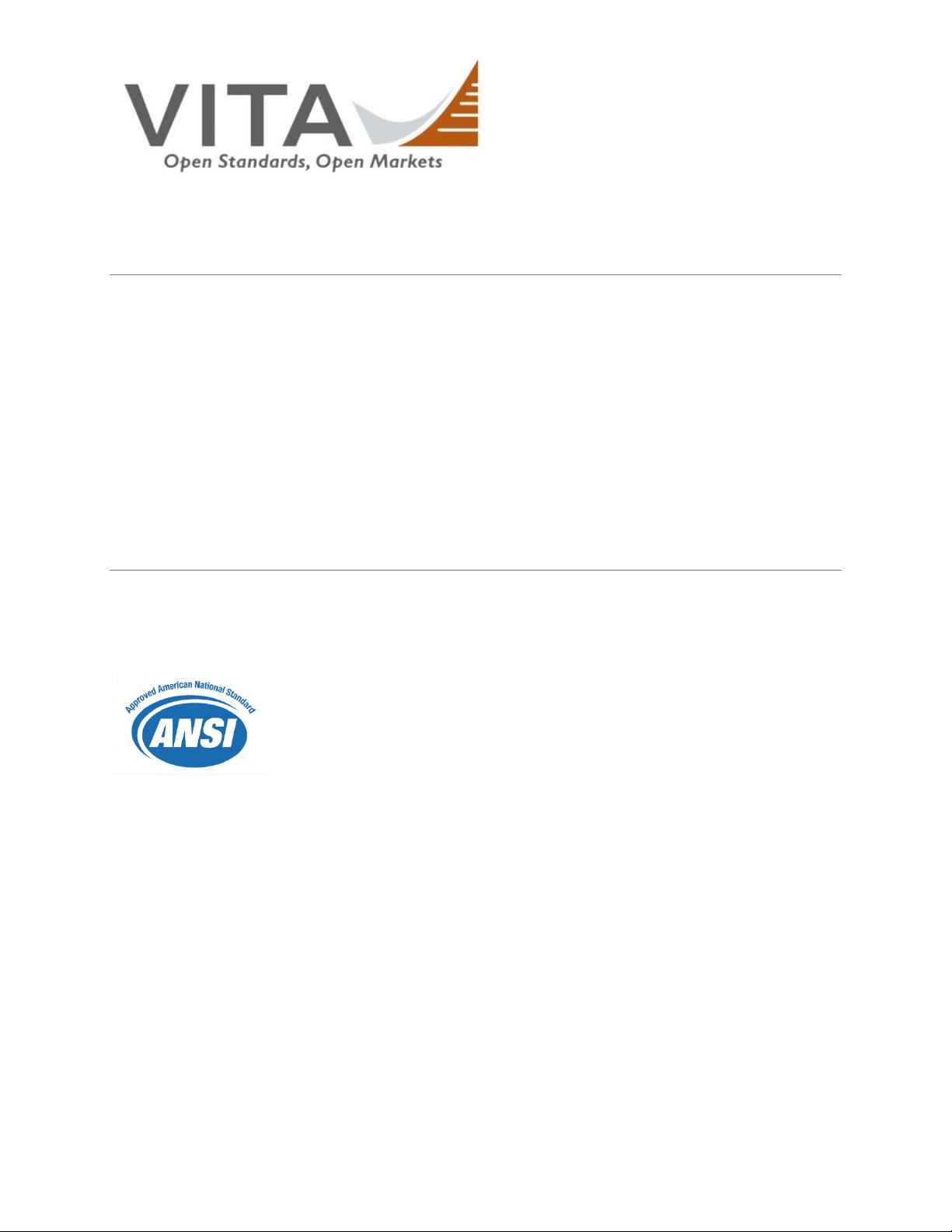 Copyright © VITA 2016. All Rights Reserved.
www.vita.com
Modular Power Supply Standard
Abstract
This standard provides requirements for building a power supply module that can be used to
power a VPX chassis. The module will fit within the standard envelope defined for VPX modules
in the VITA 48.0 standards.
Approved: August 24, 2016
American National Standards Institute, Inc.
Secretariat: VITA
我的内容管理

收起

我的资源

快来上传第一个资源

我的收益

我的积分

登录查看自己的积分

我的C币

登录后查看C币余额

我的收藏

我的下载

下载帮助
资源上传下载、课程学习等过程中有任何疑问或建议,欢迎提出宝贵意见哦~我们会及时处理!
点击此处反馈