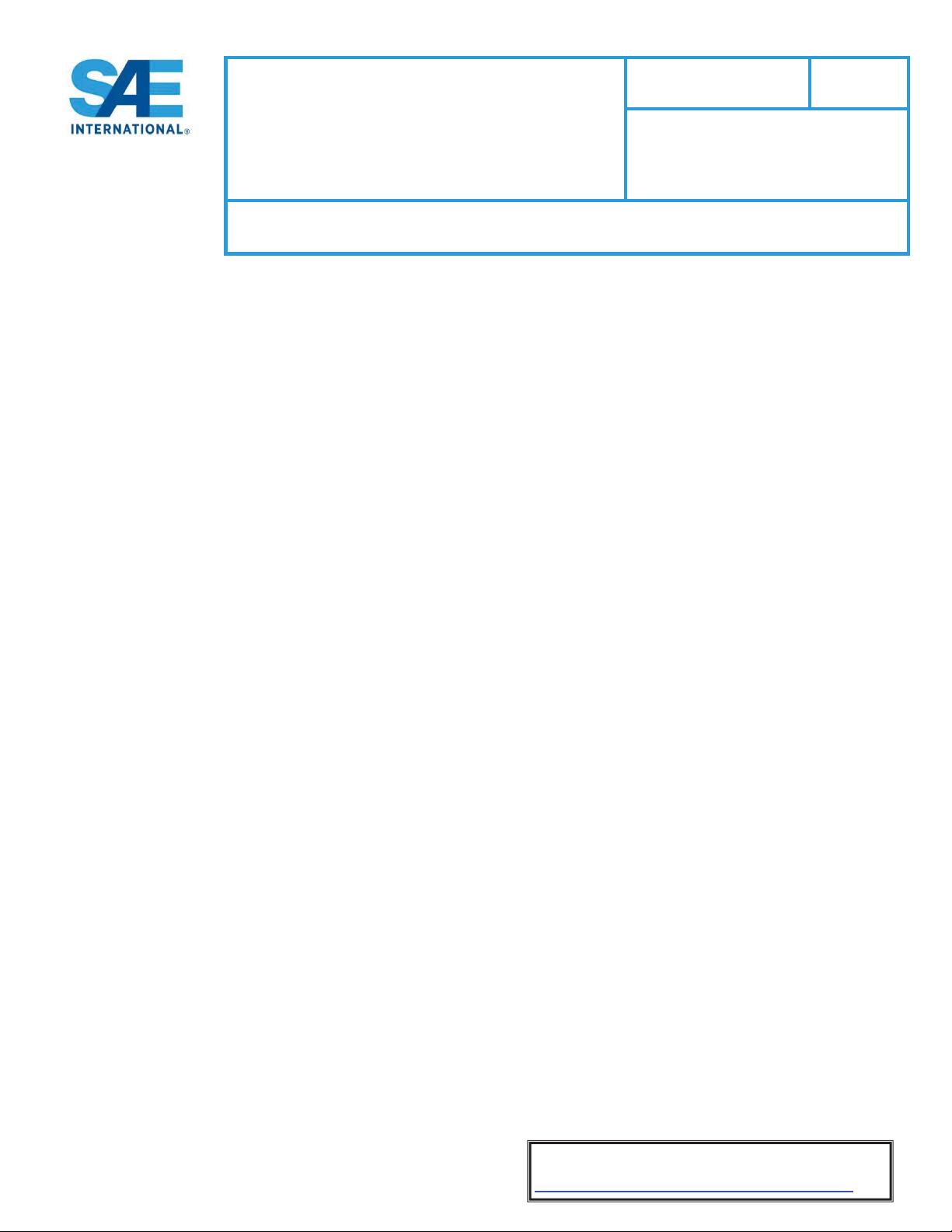 __________________________________________________________________________________________________________________________________________
SAE Technical Standards Board Rules provide that: "This report is published by SAE to advance the stat
e of technical and engineering sciences. The use of this re

port is entirely
voluntary, and its applicability and suitability for any particu
lar use, including any patent infringement arising therefrom,

is the sole responsibility of the user."
SAE reviews each technical report at least every five years at which time it may be revised, reaffirmed, stabilized, or cancell
ed. SAE invites your written comments and
suggestions.
Copyright © 2015 SAE International
All rights reserved. No part of this publicat
ion may be reproduced, stored in a retrieval system or transmitted, in any form or

by any means, electronic, mechanical, photocopying,
recording, or otherwise, without the prior written permission of SAE.
TO PLACE A DOCUMENT ORDER:
Tel:
877-606-7323 (inside USA and Canada)
Tel: +1 724-776-4970 (outside USA)
Email: CustomerService@sae.org
SAE WEB ADDRESS:
http://www.sae.org
SAE values your input. To provide feedback
on t
his Technical Report, please visit
http://www.sae.org/technical/standards/
2016-04
Superseding J2716 JAN2010
(R) SENT - Single Edge Nibble Transmi
ssion for Automotive Applications
RATIONALE
1.
Clarified clock variation refers to variation in clock tick time.
2.
New appendix for High Speed 12 bit Sensors.
3.
Changes for initialization and non-usage of serial message.
4.
Changes to support option for independent 5V supply in sensor
5.
Serial message cycle changed to
≤
64 messages for greater flexibility an

d to allow more time for diagnostic
information.
6.
Clarification to EMC Susceptibility testing guidelines for Erroneous SENT frames which remain undetected by the
SENT CRC
7. Added Appendix A.6 Temperature Sensor requirements
8. Added APPENDIX E
9.
Added APPENDIX G for recommended connector
10. Created APPENDIX H (SENT Data Frame Formats) and moved generic sensor requirements from APPENDIX A
to APPENDIX H
11. Changes to support higher current sensors
12. Added E.3 Error Messages and Signals
13. Added A.7 Position Sensors and Co
mbined Position Temperature Sensors
14. Added
Overview of SENT standard structure

(3.2)
Copyright SAE International
Provided by IHS Markit under license with SAE
Sold to:BAOLONG AUTOMOTIVE CORPORATION [700166102558] - LIQINGHUA@CHINABAOLONG.N
Not for Resale,2019-01-21 07:22:30 UTC
No reproduction or networking permitted without license from IHS
--`,,,,``````,,,``,`,,,,-`-``,```,,,`---
我的内容管理

收起

我的资源

快来上传第一个资源

我的收益

我的积分

登录查看自己的积分

我的C币

登录后查看C币余额

我的收藏

我的下载

下载帮助
资源上传下载、课程学习等过程中有任何疑问或建议,欢迎提出宝贵意见哦~我们会及时处理!
点击此处反馈