HMC7043LP7FE.pdf手册
需积分: 50
936 浏览量
更新于2023-05-29
评论
1 收藏
920KB
PDF
举报
HMC7043LP7FE.pdf数据手册,品牌为HITTITE,已被ADI收购。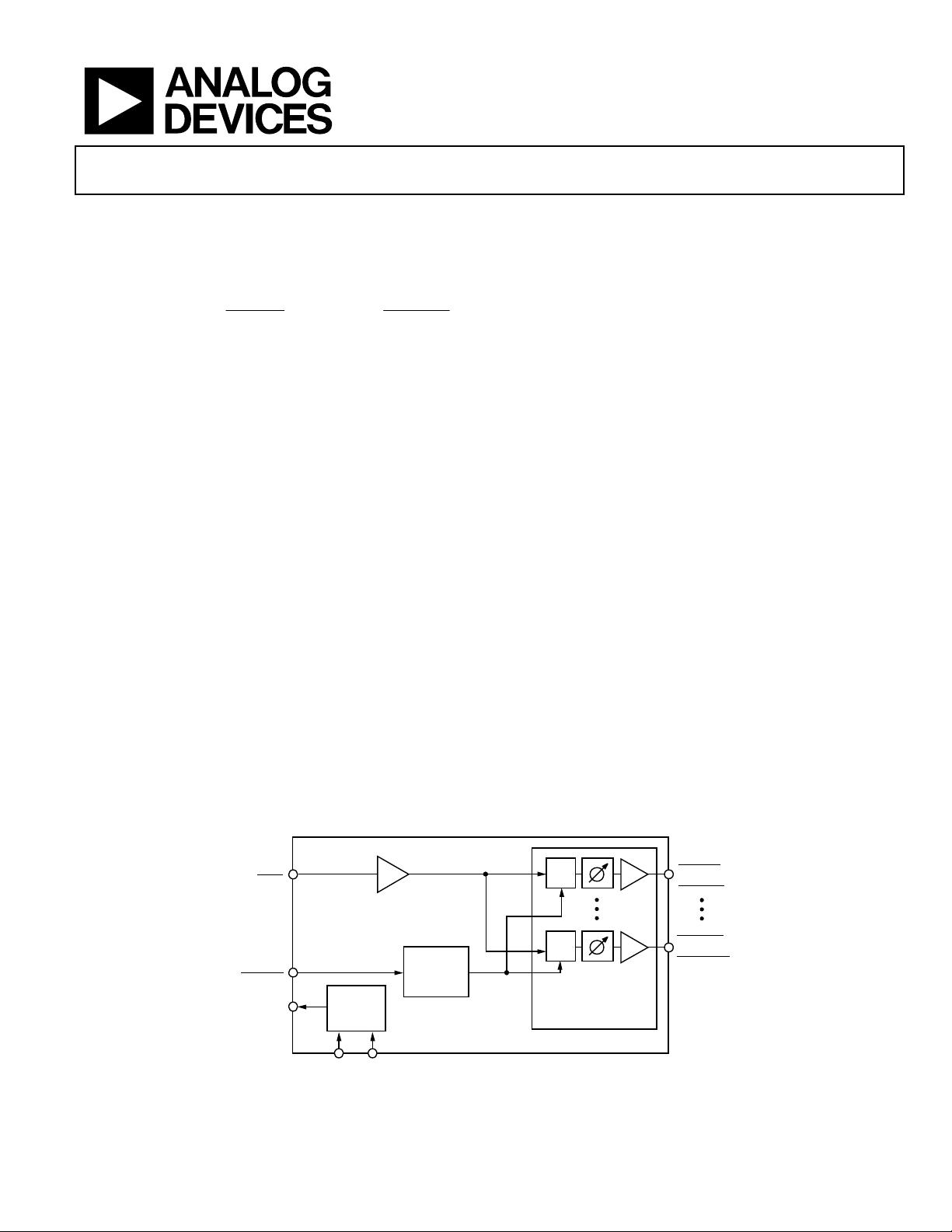 High Performance, 3.2 GHz, 14-Output
Fanout Buffer
Data Sheet
HMC7043
Information furnished by Analog Devices is believed to be accurate and reliable. However, no
responsibility is assumed by Analog Devices for its use, nor for any infringements of patents or other
rights of third parties that may result from its use. Specifications subject to change without notice. No
license is granted by implication or otherwise under any patent or patent rights of Analog Devices.
Trademarks and registered trademarks are the property of their respective owners.
One Technology Way, P.O. Box 9106, Norwood, MA 02062-9106, U.S.A.
Tel: 781.329.4700
©2015–2016 Analog Devices, Inc. All rights reserved.
Technical Support
www.analog.com
FEATURES
JEDEC JESD204B support
Low additive jitter: <15 fs rms at 2457.6 MHz (12 kHz to 20 MHz)
Very low noise floor: −155.2 dBc/Hz at 983.04 MHz
Up to 14 LVDS, LVPECL, or CML type device clocks (DCLKs)
Maximum CLKOUTx/
CLKOUTx
and SCLKOUTx/
SCLKOUTx
frequency of 3200 MHz
JESD204B-compatible system reference (SYSREF) pulses
25 ps analog and ½ clock input cycle digital delay
independently programmable on each of 14 clock
output channels
SPI-programmable adjustable noise floor vs. power consumption
SYSREF valid interrupt to simplify JESD204B synchronization
Supports deterministic synchronization of multiple
RFSYNCIN pin or SPI-controlled SYNC trigger for output
synchronization of JESD204B
GPIO alarm/status indicator to determine system health
Clock input to support up to 6 GHz
48-lead, 7 mm × 7 mm LFCSP package
APPLICATIONS
JESD204B clock generation
Cellular infrastructure (multicarrier GSM, LTE, W-CDMA)
Data converter clocking
Phase array reference distribution
Microwave baseband cards
GENERAL DESCRIPTION
The
HMC7043
is a high performance clock buffer for the
distribution of ultralow phase noise references for high speed data
converters with either parallel or serial (JESD204B type) interfaces.
The
HMC7043

is designed to meet the requirements of multicarrier
GSM and LTE base station designs, and offers a wide range of
clock management and distribution features to simplify baseband
and radio card clock tree designs.
The
HMC7043
provides 14 low noise and configurable outputs
to offer flexibility in interfacing with many different components in
a base transceiver station (BTS) system, such as data converters,
local oscillators, transmit/receive modules, field programmable
gate arrays (FPGAs), and digital front-end ASICs. The
HMC7043
can generate up to seven DCLK and SYSREF clock pairs per the
JESD204B interface requirements.
The system designer can generate a lower number of DCLK and
SYSREF pairs, and configure the remaining output signal paths
for independent phase and frequency. Both the DCLK and SYSREF
clock outputs can be configured to support different signaling
standards, including CML, LVDS, LVPECL, and LVCMOS, and
different bias conditions to adjust for varying board insertion losses.
One of the unique features of the
HMC7043
is the independent
flexible phase management of each of the 14 channels. All
14 channels feature both frequency and phase adjustment. The
outputs can also be programmed for 50 Ω or 100 Ω internal and
external termination options.
The
HMC7043
device features an RF SYNC feature that synchro-
nizes multiple
HMC7043
devices deterministically, that is, ensures
that all clock outputs start with the same edge. This operation is
achieved by rephrasing the nested
HMC7043
or SYSREF control
unit/divider, deterministically, and then restarting the output
dividers with this new phase.
The
HMC7043
is offered in a 48-lead, 7 mm × 7 mm LFCSP
package with an exposed pad connected to ground.
FUNCTIONAL BLOCK DIAGRAM
CLKIN/
CLKIN
RFSYNCIN/
RFSYNCIN
13114-001
SDATA
SPI
CONTROL
14-CLOCK
DISTRIBUTION
÷
SYSREF
CONTROL
CLKOUT0
CLKOUT0
SCLKOUT1
SCLKOUT1
CLKOUT12
CLKOUT12
SCLKOUT13
SCLKOUT13
÷
Figure 1.
我的内容管理

收起

我的资源

快来上传第一个资源

我的收益

我的积分

登录查看自己的积分

我的C币

登录后查看C币余额

我的收藏

我的下载

下载帮助
资源上传下载、课程学习等过程中有任何疑问或建议,欢迎提出宝贵意见哦~我们会及时处理!
点击此处反馈